Metal Casing:
It functions as frame work and enhances the strength of the body.
Spring:
Garter spring forces the lips in contact with axial plane under constant compression force
Unless specified otherwise, our company use following materials for all metal cases and garter springs.
| | | |
| --- | --- | --- |
| Use | Metal Case | Garter Spring |
| General | Carbon Steel Sheet AISI#1008-1010 | Carbon Steel Wire AISI-1070 |
| Resistance to water; chemical and corrosion | Stainless Steel Sheet (AISI-304) | Stainless Steel Wire (AISI-304) |
Rubber:
Rubber material should be inclusion-free, non- contaminative to lubricants and non-corrosive to metal.
Rubber materials and properties comparison
Compound compatibility chart
MATERIAL ATTRIBUTES
NBR
SI
FKM
ACM

  

HIGH TEMP REST. (°C)
120
232
205
150
  LOW TEMP REST. (°C)
-35
-50
-26
-0
  Durometer
70~90
70~80
70~80
70~80
  Swell
Low
Medium
Low
Low
  Abrasion Resistance
A
D
C
C
  Rebound
B
C
C
C
  Tear
B
D
C
C
  Impact Strength
B
D
C
D
  Gas Impermeability
B
D
B
C
  Tensile Strength
B
D
B
D
  Elongation
B
A
D
D
  Heat Resistance
C
A
A
B
  Cold
B
A
C
D
  Weathering
C
A
A
B
  Ozone
D
A
A
B
  Flame
D
A
A
B
  Oil And Fuel resist.
B
C
A
B
  Acid
B
C
B
C
  Alkaline
B
D
B
D
  Water
B
B
B
D
  Animal & Vegetable oil
A
B
A
A
  Alcohol
B
B
B
B
  Aliphatic-Solvent
B
B
B
B
  -Aliphatic
A
D
A
A
  -Aromatic
B
D
A
C
  Oxygenated-Solvent
D
C
D
D
  * Note: A=Excellent ; B=Good ; C=Fair ; D=Poor.
Enabling material adoption in engineering plastics:
Nylon resin :  Good shock absorbing property, high wear resistant, good thermo-stability, and excellent sliding properties. Usually used on highly mobile parts. Application: power steering seal.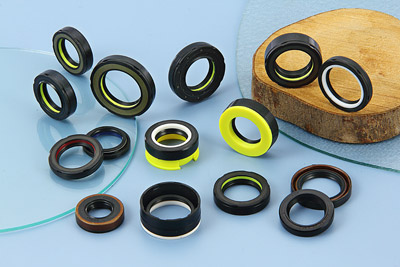 PU :  High in tenacity, good extensibility and non-water-absorbing. High wear resistant and high in impact resistance value. Application: U/ V Packing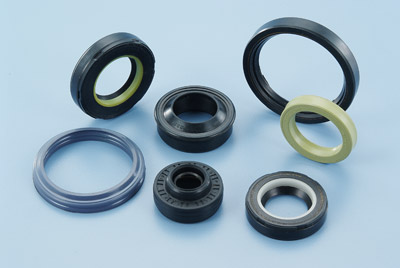 PTFE :  White and black are 2 common types. It's most thermo-stable among engineering plastics. It has excellent anti-corrosive property to chemicals and lowest coefficient of friction value. Common working temperature is -70~270℃. Application: PTFE oil seals are most widely used in chemical plants and machine shops, even OEM orders usually prefer to use this material.